At a little after 10:30pm, I finally got the chance to speak to Friday Lynton of FRIDAY BY FRIDAY. After a long day of work out and about in the city, the young mogul chatted with me about her line of luxury chain fashion. Coincidentally, it was a Friday night.
"I started using this name, which is my middle name, versus my first name. Because I've just always loved the weekends, and that day. It's the start of fun." Her designs certainly are fun, and full of life. They are sultry and playful, reminding you of festival and party style.
However, Lynton isn't partial to the term "fashion designer" at all. "I'm a creative overall," she clarified. "I don't do any sketching or pre-planning, so I stray away from trying to be called a fashion designer because my process is different from theirs. I just get in front of the mannequin and create." she said. And what Lynton creates are unlike anything most people have ever seen before. Her handmade FRIDAY BY FRIDAY designs are unique works of metal clothing, full of shiny texture and edgy "look at me" vibes.
"I spend five days minimum on each piece, but a maximum of two to three weeks with certain pieces. If you zoom in on my website, you can see that it's all made of little circles. Those all come separately." she tells me. "It all takes quite some time. Especially with the weaving patterns, and draping." This July, it will be six years since Lynton started her creative journey. She began with headpieces and bracelets, but did not get into clothing until early 2013. Growing up, her father was a metalsmith, so the artist was surrounded by sculptures and other works of metal. Her mother was even a welder for a period of time. "That's what I think draws me to the material. I've always been around it."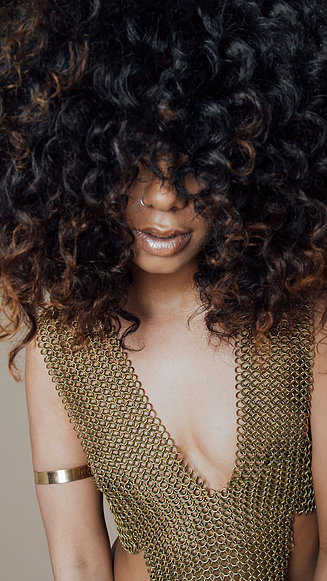 Her work is time consuming, and anyone can imagine how tedious working with such tiny rings would be. But Lynton tells me of the peace she finds in her craft. "The process is mediation for me. It's great on days when I'm not rushed, or when it's not something I've never done before. When I can take my time, it's amazing. Anything can throw that energy off, but overall I am so happy to do it. I wouldn't want to do anything else." she said proudly. And there are some perks to running her own line. Her independence is one of her favorite parts of the gig. "No having a boss, no clocking out. I can set those rules for myself. I have an alarm routine. A 9-5 would make me anxious. I'm happy I can call the shots for myself." she said.
And that autonomy is one of the themes Lynton channels into FRIDAY BY FRIDAY. The brand's identity is fully centered around girls, and their liberation. "The clothes are outward, a little revealing even. But the metal allows for holes, and a tasteful peekaboo effect. Womanhood to me is being comfortable in your womanhood, and who you are. Learning that you have feminine power — certain types of energy, like being nurturing. It's recognizing that, and being confident."
But when asked about her views on feminism, Lynton's response was a little more complicated. She laughed, thinking about her answer for a bit. "If you had asked me that last year, I would have had a much more happy-go-lucky answer, but my thoughts have shifted. I won't go too deep into it, but I will say that I want all women to be equal. It doesn't represent all types of women, and I never saw that before. If we're really gonna do this feminism thing, we have to really do it. Not just because everyone's waving a feminism flag. Once we get to that place of being equal to men, we need to worry about ourselves and treating each other the same." she said.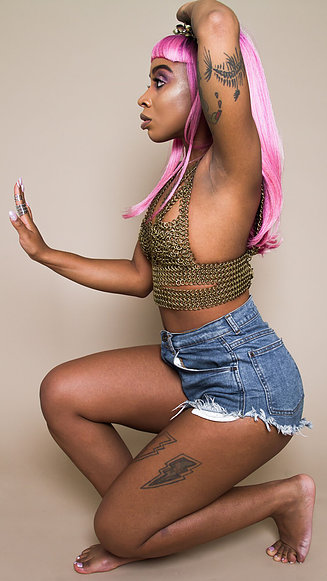 Although women as a community have a long way to go, the fashion community itself is not as cutthroat to Lynton as some may assume it is. In New York, where the fashion industry is full of artists trying to be relevant, Lynton has had no problem finding her place. "I love it here. There are lots of opportunities, and I wouldn't want to do this anywhere else." Lynton told me. "By the nature of independent designers though, New York is competitive. But it's not all bad." she reassured me. "You just need the right set of people to inspire and push you. Connecting is almost more valuable than creating."
But I had to wonder: in a time where designers seemed to be plagiarizing more than ever, did she ever get discouraged? Theft is inevitable. For Lynton, and creatives like her, a copied design could be crushing. "Honestly, it is a bit of a task." she said. "But at the end of the day, you cannot stress on that. It's going to happen. It's in a really bad place because of social media ease, but there's no way to stop it. The best thing to is to let people know who you are. And let them know what you bring to the table that's better." Lynton values customer service, too. "I want people to know that we're dependable. We're made to order, and they can contact us if there's anything they want. I'm a little bit of a perfectionist."
This summer, FRIDAY BY FRIDAY is launching one of their biggest statements yet. Unlike much of the fast fashion that has come out in the industry lately, this collection's voice is hard hitting. "Season six reflects the mood and statement that I want to share with the world. It's the idea of artists being in a doubtful place. Not trusting the universe, just being in a really low place. I tried to find so many ways to capture it through campaigns and everything. Social media makes everyone look perfect, but we aren't. It doesn't show the part of you that can be down, the part of you can be in your feelings." Lynton said. Using real life experiences as inspiration for the story behind the images and film, season six evokes an instant emotion, or triggers a memory within the audience.
Season six is due out July 16th. We can assume it'll be a big winner. Lynton's previous collections have been worn by Keke Palmer, Kitty Cash, and even SZA. "It's really cool to see people perform in FRIDAY BY FRIDAY. I've been a Keke fan since Akeelah and The Bee. And to see Kitty Cash, djing in my chain dress. It's amazing. It's so weird to see people you respect creatively, respect your craft." As for Lynton's personal style icons? "Rihanna." she tells me quickly. "I'm waiting for her to call me. I'd be like, 'Yes girl, I'm ready!'" Lynton says. "Also, Rick Owens and Michele Lamy. They're me, elevated, at age 50, with a shit ton of money. It's hard because everyone has a stylist now, so I don't know who has actual style. But those three sound like a good dinner party, right?"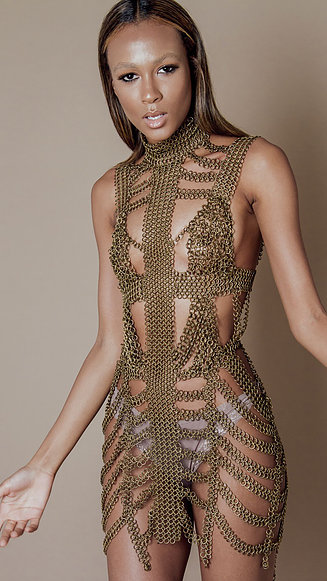 FRIDAY BY FRIDAY has nowhere to go but up. This summer, you should expect even bigger things from them. "July 1st, we're having our presentation in NYC. We're also doing the relaunch of FBF style, which was our editorial section. We ran something called 'Girls in FBF' for awhile. I'm also planning all original content, and Los Angeles collabs as well as New York." Lynton said. Drop one of season six is on June 6th, so keep an eye out to score your own piece of FRIDAY BY FRIDAY chain wear.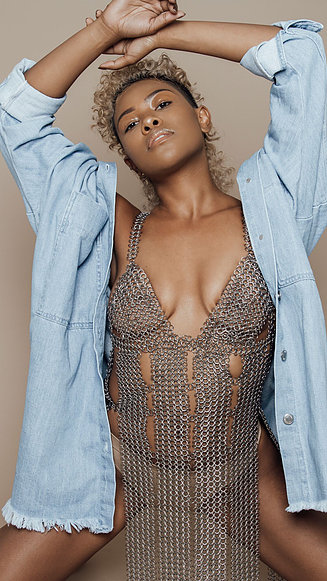 "In my opinion, everyone dresses the same with the rise of online boutiques and such. I wanted to offer something unseen. I'm learning how to weld now, thank God. My dad is finally teaching me. Metal sculptures, who knows? Maybe clothes is just another chapter. You gotta keep it interesting. Otherwise, people will get bored." Lynton said. The brand hasn't styled Rihanna yet, but that kind of impact could soon be in reach. FRIDAY BY FRIDAY would make anyone want to say cheers to the weekend.
You can follow/contact FRIDAY BY FRIDAY on:
Instagram – @fridaybyfriday
Website – fridaybyfriday.com
FBF Season Six Campaign Credits 
lead grl/artist: Felicia Limada @limada
lens: Cory Camargo @corymcamargo
creative director: Friday Lynton @girlfridayy
hair & makeup: Arielle Nelson @belleyelll
jr creative: Niambi Moore @niambimoore
——————————————————
Interview by: Melinda Fakuade
Photos from:  fridaybyfriday.com