As the MEFeater team learned what The Met Gala 2018 theme was for the most famous red carpet of the fashion calendar, we put our heads together on what could possibly emerge from such different worlds; fashion and Catholicism.
Below, some of us MEFeater gals, along with a reader who chatted to us about male fashion, talked about our predictions of what the Met Gala 2018 might bring and why we love fashion's most unpredictable red carpet.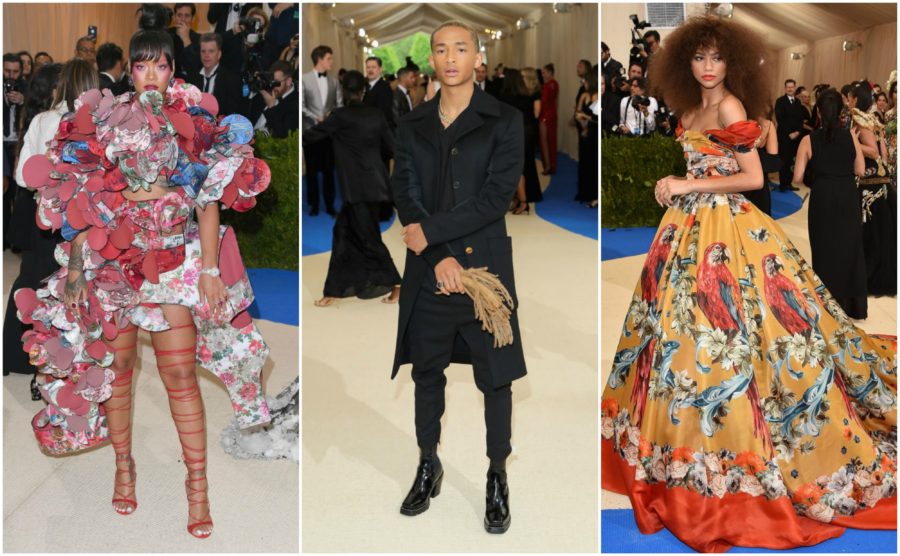 Heavenly Bodies: Fashion and the Catholic Imagination
The Met Gala (aka Costume Institute Gala) has been a favorite event to cover since I began fashion writing. I think the theme always injects fun that's so essential to the industry. It suspends us in amazing capability and creativeness. Honestly, it is somewhat lacking at usual events and the Met Ball tells us fashion doesn't have to be boring. Although quite a few don't conform to the dress code, that's no reason not to enjoy the bathroom selfies and rumored gossip. This is also very essential.
The announcement of the 2018 theme (Fashion and Catholicism) was a somewhat surprise. Over the last few years, the themes have been fairly 'straightforward.' With the introduction of these intriguing, possibly provocative elements it's sure to create a hell of a lot of headlines. I'm anticipating what the celebrities who always abide by the Met Gala's theme will wear. Rihanna is an attendee who seriously impresses me year after year and her 2015 "China: Through the Looking Glass"  outfit cemented her place in the Met Gala hall of fame, IMO. This wasn't just because of her gown. It was the fact she sought a designer who was relevant to the theme. Then, she made her entire look around it. I'm sure, with RiRi also being a co-host, 2018 will be memorable.
There are so many others I just can't wait to see too. Catholicism could be an interesting theme to interpret. You could have the casual color code i.e. monochrome or have Beyoncé casually wearing another magnificent halo. As a native, I'll be looking out for anyone taking on an Irish designer where Catholicism is still so prevalent.
Fashion is slowly but surely waking up to the modern day world. People want creativeness, they want diversity and they want representation. Amal Clooney, Rihanna, and Donatella Versace are co-hosts for the Met Gala 2018 which in my mind, is great. Little things like this make a difference for a red carpet event. That's what I like about the Met Ball. Whatever the theme, there's always room for a little fun and a world of championing. ?? ?? ?? ?? ??
It's no secret that the MET Gala has some of the most creative themes when it comes to Fashion and Art. Last Year it was a tribute to Japanese artist Rei Kawakubo/Comme des Garçons, and the year before that is Manus x Machina: Fashion in an Age of Technology. Both years the Iconic Rihanna and very theoretical Lady GaGa showed up to the gala with something imaginative. This year I expect no different. The daring fashionistas will be in something AMAZING, while the more conservative ones like Selena Gomez will give us something……..cute.
With the given theme "Heavenly Bodies, Fashion and the Catholic Imagination", the designers definitely have their work cut out for them. I expect to see a lot of robes, the color white, and A LOT OF CROSSES.
Bobby Phelan – MEFeater reader and Freelance Fashion/Grooming Editor
From Madonna's heavily disputed "Like a Prayer" garb to the more recent, yet equally contended, vestments sported by Lady Gaga in her video for "Alejandro", the collision of popular culture and religious regalia is not exactly a new phenomenon. 2018's MET Gala, however, will see the integration of the two reach dizzying new heights.

The Met Gala is never an event to shy away from controversy. Its decision to engage the world's leading fashionistas with the theme should prove to be nothing short of pure couture gold.

Visualise regular best-dressed list notables like Rihanna, Cara Delevingne, Zendaya & Solange Knowles in embellished Dolce & Gabanna, Valentino & the night's sponsor Versace. Taking up the lead for the boys, I'd expect the likes of Zayn Malik & Jared Leto to be sporting some typically outlandish Gucci or Etro numbers that'll undoubtedly fit the theme seamlessly.

Whatever the sartorial outcome, it'll arguably be one of the most memorable (and possibly contentious) MET Gala's we've seen in quite some time – let the games begin!
---
Are you looking forward to your favorite celebrities having fun with the 2018 theme?