As MEFeater learned Pantone had chosen 'Ultra Violet' as 2018's Color of the Year, we decided to research the top products you can buy to sport the purple shade.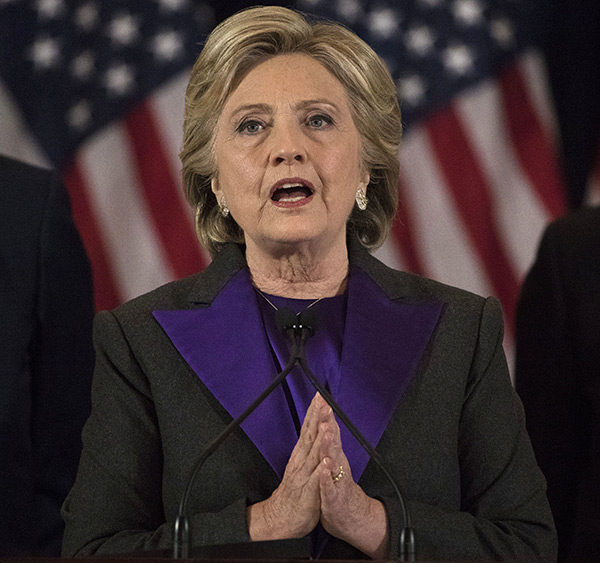 Now Pantone has told the world Ultra Violet is 2018's Color of the Year, it means we can all experiment with our wardrobes. In fashion, purple is very much a popular color so we got our thinking caps on to research best in Ultra Violet out there.
The color became a big talking point when the Democrat's 2016 Presidential nominee, Hillary Clinton, wore the Ralph Lauren suit above to her concession speech. It's recognized that purple represents meaning such as unity, bipartisan and in the Methodist religion; royalty and penitence. Did you know the shade is also the chosen one of the anti-bullying pro-active stance in the L.G.B.T.Q. community? ?
Below, MEFeater has browsed stores and sites alike to find y'all some fashionable inspiration, thanks to Pantone.
Ultra Violet – Shopping
The featured purple River Island bag is perfect for channeling the 2018 Color of the Year. While it's said to be light purple here, the color is a little deeper in reality. Priced at $32, it's available to purchase online. For a winter warmer, Missguided has provided us with this faux-fur coat and it's perfect for your wardrobe. Pair this with your favorite dress for the holidays or match it with your Tuesday best. Snap it up for $111 here. Our other featured wearables are the Nike Air Zoom Running Shoe for $240 and awesome Fenty x Puma fur sliders you can shop (on sale) here.
Of course, if you're in need of wireless headphones, these Beats by Dr. Dre Solo 3 ones are for you! The color is a perfect 'Ultra Violet' match and will be sure to stand out. Purchase them on Macy's website here.
This slideshow requires JavaScript.

Are you a fan of what will be Pantone's Color of the Year 2018? Got some Ultra Violet in your closet already? Let us know.