It was announced last Wednesday by the Hollywood Foreign Press Association, that Oprah Winfrey will be honored with the Cecil B. DeMille Award at the 2018 Golden Globe Awards.
The DeMille award is meant for people that have made "a great impact or outstanding contributions to the world of entertainment."
Past honorees stream from the late Walt Disney to the late Lucille Ball, as well as the great Sidney Poitier. The list continues with celebrities such as Barbara Streisand, Denzel Washington, George Clooney, Martin Scorsese, Meryl Streep, Steven Spielberg, Jodie Foster, and Robert De Niro.
Once the announcement was made on last week, Oprah tweeted "What an honor."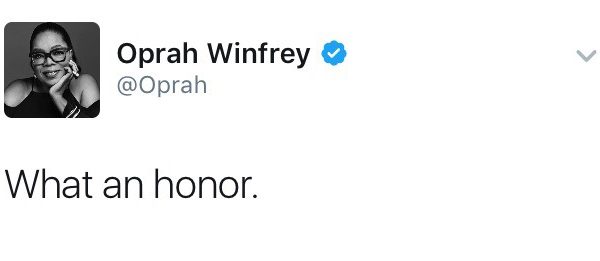 The president of the Hollywood Foreign Press Association, Meher Tatna had some words of love for Oprah,
"As a globe media leader philanthropist, producer and actress, she has created an unparalleled connection with people around the world, making her one of the most respected and admired figures today,"

" For generations, Oprah has celebrated strong female characters on and off screen, and has been a role model for women and young girls for decades."
Will you be tuned into the Golden Globes Awards?! Leave us a comment! And check us out on Facebook, Twitter, Pinterest, and Instagram!