Photo: Giphy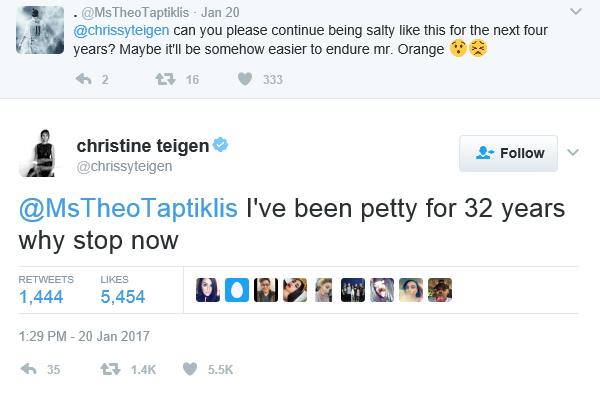 It seems that the public has still not figured out exactly who they're dealing with. Chrissy Teigen is not just a model. She is not just John Legend's wife. She is not just a campaign face, a pop culture contributor, or a cookbook author. She is a successful woman. She is smart, charismatic, and really does not care what you think about her. From her tasty recipes, her defense of her family against the paparazzi, or her classic Twitter clap-backs, anyone who crosses her path will get royally served.
Lately, the hilarious beauty queen has been disrespected. In the wake of her outspoken political opinions after the election of Donald Trump, many have taken offense to Teigen's "attitude." Just this week, neo-nazi @RichardBSpencer and Teigen faced off. You can guess who won. On top of that, recently her husband was called a "monkey" by the airport paparazzi. Teigen went online to share her disgust, saying,
"…and people wonder why celebs lose it in pics."
She has always made it clear that any enemy of what she believes in could catch these hands. Or, at least, catch her Twitter handle and her 3.73 million followers, standing up for what is right.
The replies and mentions on her social media accounts may just warrant an "attitude." The relentless critique on her parenting skills, the racial commentary, and the scrutiny over her appearance (even though she has a killer body and survived that wardrobe malfunction like a champ!) is insane, but so is Chrissy's comeback game. With all the disrespect hurled her way, she has the right to dish out a little sass every once in awhile.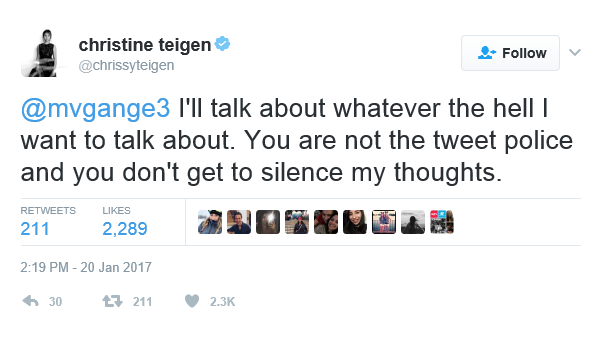 We hear you Chrissy!!!??