Did you miss us?? We missed you guys! We have been MIA for way too long!
The college semester is finally over and your favorite team of student writers are back t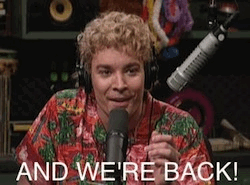 o write and interview more guests! Sorry we left with out an announcement, we are still learning and we apologize. We will never leave you hanging like that again! Expect more stories about events happening in New York City, how to have fun this summer, fashion and a lot more. We have been planning a lot of exciting things for you guys and can't wait for you to see it! We will still be keeping you informed on whats going on in the world of hip hop, but we hope to expand in many different categories. Please help us by telling us, what you want to see. Suggest things, by commenting below!