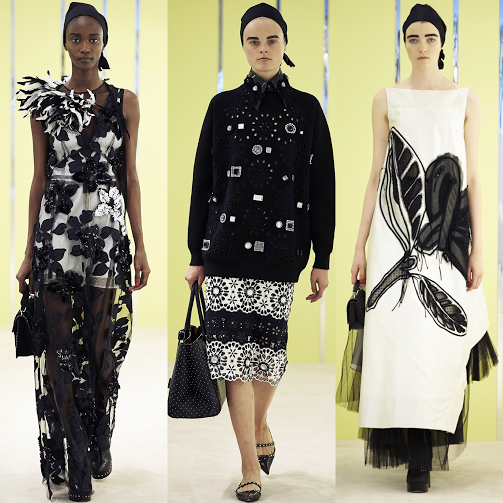 It's all about the embellishments and laser cutouts when it comes to Marc Jacobs' new ultra-chic Resort Collection. The collection featured a variety of lengths, textures, movement, and styles.  The fist several looks alone featured some of the most beautiful proportions, I have ever seen. Who doesn't love a  slim fitting , knee-length pencil skirt with an over-sized sweater. Unfortunately, the collection lacked color.  Jacobs  opted for a black and white color palette with a pop of red here and there. As a native New Yorker, I can't say I was upset, since my entire wardrobe is made up with Black, Grey, and Jean (is that even a color?). However, this collection wasn't about the color it was about its mood and vibe created by its details. It's like Marc thought of everything, when it comes to this collection.  Everything was so precise in creating the look. The thick dark eyebrows and simple, black head wrap  was vital to creating a cool, moody element to the show. I think the only other hair style that may have worked, would be slick back and short, although I think the head wrap is way cooler.
This is a show you have to watch more than once. It truly is a work of art. At first sight, I didn't love or understand the collection. I was extremely bored and the music behind the show put me to sleep. I kept thinking "Black and White………. again? Oh how exciting," but I was wrong like any great piece of art you have to look at it from different angles to get it. Thankfully, that is what I did. I re-watched the show and fell in love. Initially, what I thought was a boring show became extremely innovative and smart. The yellow back drop and classical music was so well thought out. Your eyes were instantly directed to the clothes. Overall, great job Marc Jacobs!  See the full Resort Collection here !!
Follow us on Twitter: @MEFeater
Follow me on Twitter: @Gabrielleamani
Comment Below!