Nicki Minaj has gotten some pretty bad press lately. After Remy Ma's diss record, "shEther", Twitter and Instagram has been dragging the rap star, and she has been rather silent on the matter. But before dissecting her current rap beef with Remy Ma, we should take a look at Nicki's track record.
The 2015 MTV VMA's were highly watched for many reasons. The host was slotted to be Miley Cyrus. After her controversial 2013 twerk performance with Robin Thicke, her image had begun to take a hit. However, Miley spun her IDGAF attitude into a media goldmine. Whether it was honest hysteria, or a desperate cry for the Hollywood gaze, it is irrelevant now. At the time, it meant she was making money and headlines.
Minaj had just ended a feud with pop singer Taylor Swift around the time of the VMAs. Swift had called her out on Twitter, to kick the whole mess off. Nicki's tweets had told of disappointment at her lack of nomination for Video of the Year. Like many black award losses, it was to be expected. "Anaconda" was fun and sexy, but it portrayed body positivity for larger women, so much so that people argued that it was "skinny-shaming." Nevertheless, Nicki had a right to feel snubbed after putting out the banger of the summer, with visuals that matched its vibe perfectly.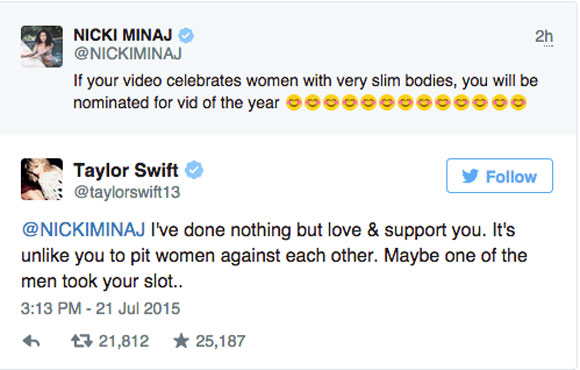 However, for some reason Taylor Swift felt that the tweets were a personal attack towards her video for "Bad Blood". Which, for what it's worth, did feature all slim women. Regardless, Minaj had simply been commenting on the shame of "different" body types in popular media. The "Bad Blood" video nomination was irrelevant to this. After things were clarified, the two made up, and Twitter calmed down for a bit.
During an interview with The New York Times, Miley had been asked for comment on the Taylor/Nicki feud. She described Minaj as "not too kind" and completely missed the point of the argument. To make matters worse, Nicki decided to be very unforgiving of the Times quotes. When Nicki came for Miley, the whole world was watching, and many were cheering her on. As Minaj accepted the award for Best Hip-Hop Video, she took her stage time to ask the infamous question: "Miley, what's good?" Cyrus was stunned, and her lack of a real answer caused the internet to blow up her social media with hilarious comments.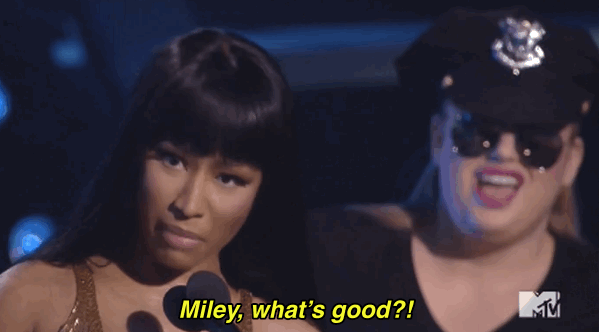 When she clapped back, Nicki was congratulated by her fans for standing up for herself. It seems a lifetime away now, considering Nicki has yet to say anything about Remy Ma's infamous diss track  "shETHER". The song was released Saturday, February 25th, but the public is still waiting for a response. The part a lot of people don't know is that this rap beef actually goes way back. The whole debacle is beginning to remind us of Meek Mill's flop against Drake in July 2015. Hopefully, we get more than one song to judge the winner. Drake and Meek certainly provided us with enough to carry the debate through that summer. Let's see what happens this spring.  Nicki, what's good?
What do you think of the Remy Ma/Minaj beef? Are you surprised at Nicki's silence?
Subscribe to our mailing list