It was the most magical night of the year as Serena Williams married her fiancé Alexis Ohanian in New Orleans. The pair has a two-month daughter together named Alexis Olympia Ohanian Jr.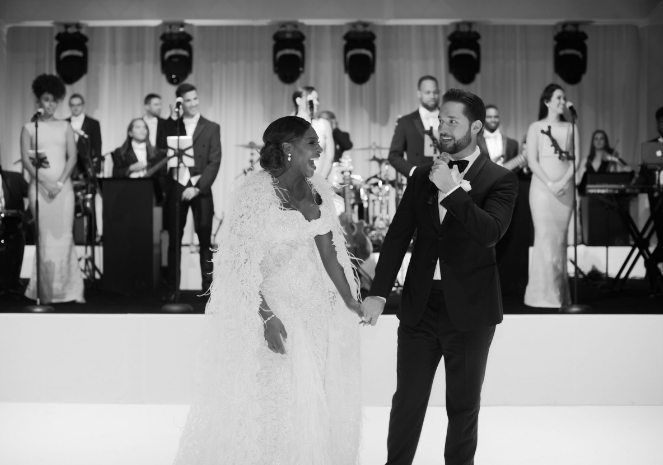 Serena Williams Marries Alexis Ohanian
In a Beauty and the Beast themed wedding, tennis champion Serena Williams married her fiancé and Reddit co-founder, Alexis Ohanian. The couple was together for 18 months before Alexis planned a getaway to Rome, where they met, to propose right back at the table where they first clapped eyes on each other. "We were both really nervous but also excited to take this huge step. It was such a beautiful moment," Serena said.
It was one of the most unconventional but personal 'Tale as Old as Time;' the married couple's first dance tune, weddings. In an exclusive tell-all with Vogue Magazine, Serena and Alexis told how different their worlds were that brought them together. Alexis wasn't a tennis aficionado and Serena wasn't a Reddit enthusiast, we shall say. But at their wedding in the Contemporary Arts Center in New Orleans, you would certainly say they were a match made in heaven. They were completely and utterly in love as their family & friends celebrated the marriage. Among the 200 guests were celebrities such as Beyoncé Knowles-Carter, Ciara, Kim Kardashian-West and Anna Wintour, to name but a few.
Serena's first and main bridal gown was designed by Sarah Burton for Alexander McQueen. The strapless ballgown was worn with a cape, XIV Karats jewelry and a bouquet of white roses. Vogue stated the look was worth an estimated $3.5 million in total. A look fit for the perfect queen.
This slideshow requires JavaScript.

The After-Party
As they took their official portraits after the ceremony, Serena and Alexis were introduced to the room as Mr. and Mrs. Alexis Ohanian. Serena debuted her second of three gowns for the evening at this moment. A stunningly beautiful and flared Versace dress. Donatella Versace, the label's Chief Designer, told the magazine it took 1500 hours for the bespoke gown to come to life and five embroiderers worked on it. After the ceremony was as non-traditional as the ceremony itself. While the marriage was being officiated, guests were seated on couches and the couple's wishes were taken into account at every point of the day.
Before the Élan Artists's band entertained the bride and groom along with their guests, a round-house of dining options were offered; Armenian (part of Alexis's heritage), Southern and Italian food were main choices. The couple also gave their guests a salad wall and steak-house station. A donut stand and other delicious desserts were displayed for sweet treats afterward. A nod to Serena's winning career wasn't forgotten as everyone sat at a group table named after each of her Grand Slam wins.
The two performed their own dance routine when Serena appeared in her third and final gown (Versace again) of the evening. This time, a shorter number as she and Alexis floated to 'Tale as Old as Time/If I Can't Have You.' More routines followed with Serena slipping on her bedazzled Nike trainers. A surprise all-white carousel was apparently Alexis' final surprise of the night for his bride as she beamed with utter joy.
This slideshow requires JavaScript.

A Tale as Old as Time indeed. Get the complete inside scoop on the Williams/Ohanian wedding by Alexandra Macon for Vogue Magazine. 
What did you think of Serena and Alexis' wedding? Leave MEFeater a comment below or on our social media.