Born in sunny San Diego, as a young girl Deqa Hussein always knew she had a passion for fashion. However, in an industry where you don't see many people of color, there wasn't much representation of the type of people Deqa could relate to: people of the Muslim religion. Incidentally, she knew she had to change that.
I started designing at such a young age and drawing out all of my designs. Most of everything I wear is customized by me, for me.
Being Muslim and loving the fashion world, meant having to keep up with the latest trends while adding a unique modest twist to it. After blowing her school away with designing her own Great Gatsby themed prom dress, Deqa couldn't stop there. The following fall, RAYIE was born.
I named it RAYIE meaning exquisite in Arabic.
AM: Where you born in San Diego or abroad? How do your surroundings effect your designs?
DH: I was born and raised in San Diego, California. But I am from Somalia! I'm of East African Decent. I feel like my surroundings inspire my work by the people I choose to surround myself with. I have the most creative and coolest team around me always. I also love doing research, when it comes to anything Fashion related or business wise. One of my favorites are ted talks. I also grew up in a very diverse city where everyone is so different in their own authentic way. So many different backgrounds and religions in San Diego and I feel like with that you are always very inspired.
AM: How would you describe the style that RAYIE has to offer?
DH:  For RAYIE my vision is a 90s meets runway style. I love everything very elegant. My goal is for girls to feel like a million bucks when wearing my designs.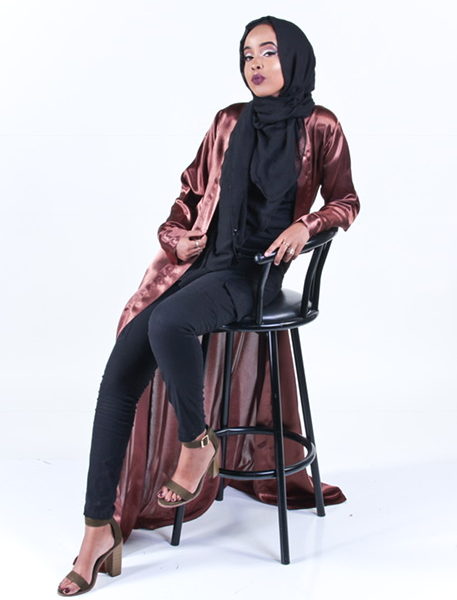 AM: When is your next collection dropping?
DH: I'm currently working with a lot of ideas for my next collection. It will for sure be something different. I'm aiming for it to be out early this year.
AM: What can we expect in 2017 from RAYIE?
DH: For 2017 my goal is for RAYIE to break boundaries. I want my designs worn by celebrities and hopefully make it on more magazines [like MEFeater]. But most importantly, I want to grow as a brand and for the world know RAYIE for it's diversity and inclusion in the fashion world.   
Shop RAYIE:
INSTAGRAM: @rayieapparel
Shop RAYIE:
INSTAGRAM: @rayieapparel