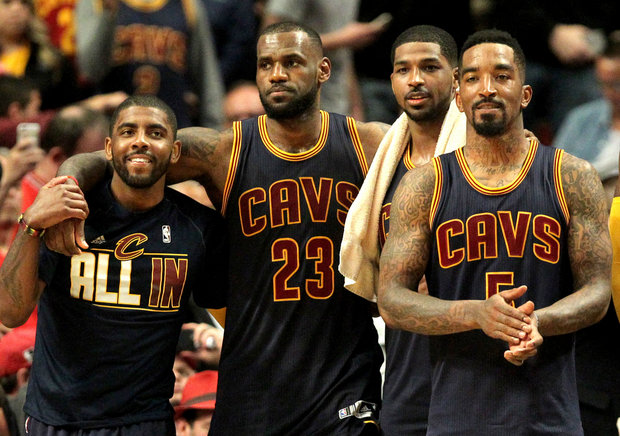 Why do people think they can win at this game called Life alone?
Is it because people yearn for control?  We are taught to follow our hearts and believe in  ourselves and that we can rise above as long as we can dream it, we can achieve it.
Bullshit.  Lebron James is one of the best basketball players of this decade and yet he only has 2 championships out of his 6 appearances at the finals. The Cleveland Cavilers along with Lebron aren't favored to win this year's   championship as well.  However, Lebron doesn't win because of his self merits; he wins because of the work of his team. Does that mean he doesn't believe in himself? No, it means that to rise above and succeed you need also to believe in your team.
Will Lebanon James prove to the world that he is the best player or does he want to be known as the world's best teammate? He has no control over this outcome,  but he will have control on how he uses his team. Although Lebron is the ultimate team player,  people expect him to will his team alone all the way to the championship. That championship win will be a compilation of efforts made by all his teammates such as Kyrie Irving and JR Smith.
Life is full of challenges; it does not respect age, color, or status from birth until death. If Lebron has taught us anything, he has taught us the importance of teamwork, as well as the importance of having a team. One miss step in your game of life can set you back for the rest of your time on Earth. Don't take on this game by yourself, create a team that supports your dreams and efforts. Network and help your family and friends to the best of your ability.  No one in this life has succeeded with out the aid of someone or something. Faith without works leads to nothing.  Learn to work with the people around you.  Uplift them and help them also achieve their dreams. This is what teamwork is all about. This philosophy is what Lebron has brought to his team. The weakest link in your team can be the person to accomplish your goal. Perseverance, a strong belief in self  and others are the fuel necessary to overcome set backs.
Follow us on Twitter and Instagram @MEFeater
Subscribe to our mailing list