Pull out your rose-colored glasses and jelly sandals because Festival Season is right around the corner! Lineups are being announced via social media and with the amount of great music released last year, the festivals of 2017 are not going to disappoint regardless of genre, location or artist lineup.
Soulquarius
The usual suspects are continuing their annual celebrations, but Soulquarius is the new kid on the block this year. The (almost) exclusive R&B lineup right around Valentine 's Day puts a grown & sexy twist to the traditional festival setting. Another unique element of Soulquarius is the return of some of our favorite artists from the 99 and the 2000s. Ja Rule and Ashanti will perform their greatest duets, Pretty Ricky is reuniting for their first show together in almost a decade, Amerie, The Pharcyde, Jon B, Kelis and Mya will also perform. Soulquarius is a one-day festival on Saturday February 18th at The Observatory Grounds in Orange County.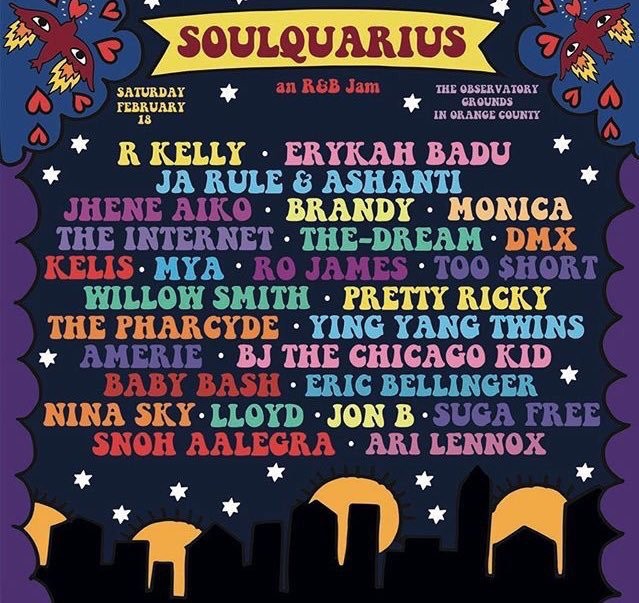 Coachella
Coachella is making sure they keep their crown as the world's biggest festival. Beyoncé will be headlining day two of the festival this year. Radiohead will headline day one and Kendrick Lamar headlines day 3. With over 100 acts, Coachella attracts thousands of people for their double weekend event. The festival will occur April 14-16 and April 21-23 at the Empire Polo Club in Indio, CA. Tickets are sold out.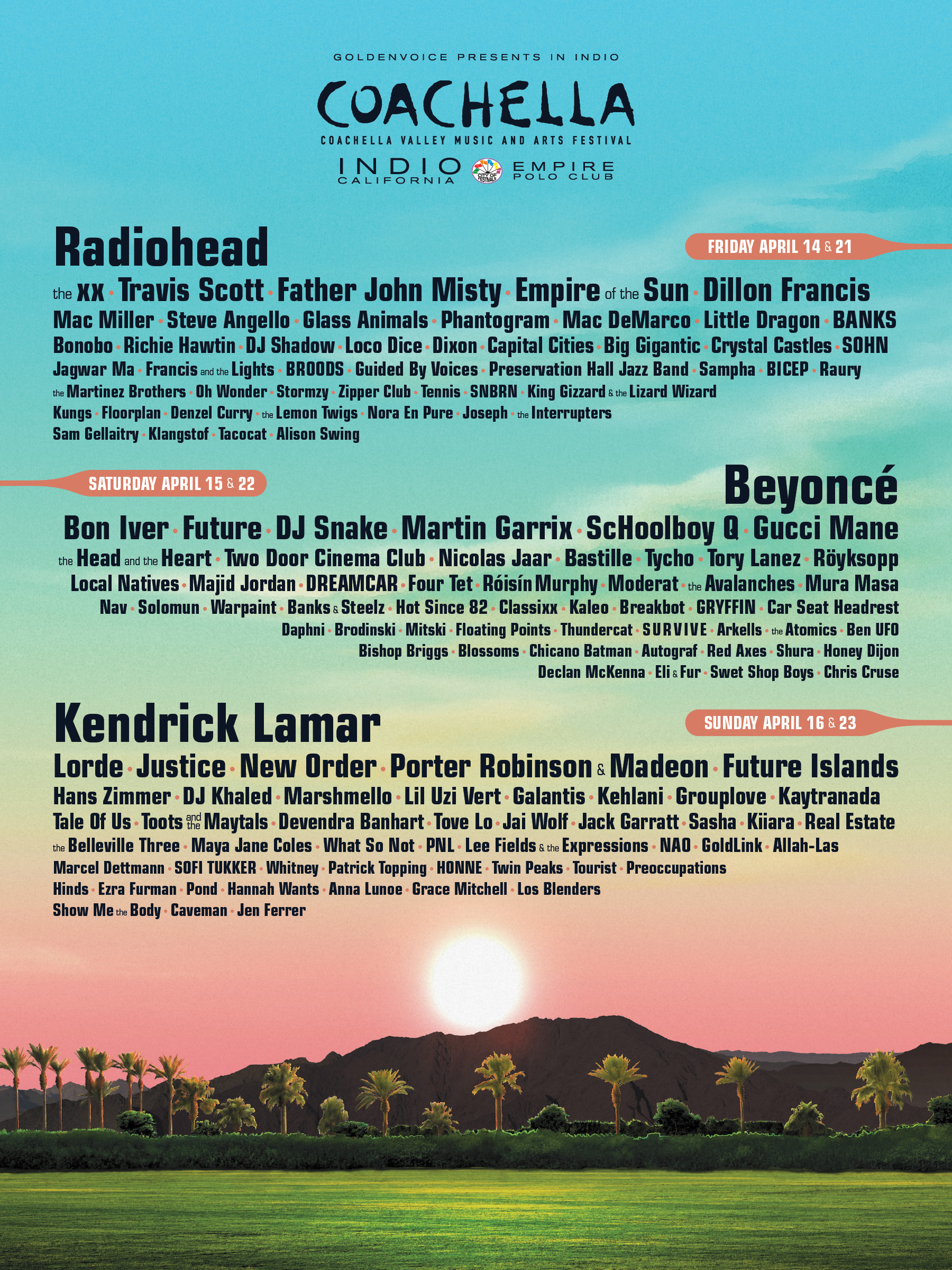 Broccoli City Festival
Celebrating their 5th year anniversary, the eco-friendly Broccoli City Festival in DC will be not only hold the festival but a Broccoli City week dedicated to their theme "Building Broccoli Cities". Beginning April 29th, the organization will use their platform to address social and economical issues while participating in volunteer events before the festival. The week will kick off with a 5K Run and continue with a conference and art pop-up shop. The festival will occur on April 6th at Gateway DC. Rae Sremmurd and Solange will headline. Other acts include 21 Savage, Lil Yacthy and Chaz French. More information can be found on their website. Presale tickets are on sale now with the code provided on their Instagram. Public tickets go on sale Friday January 27th.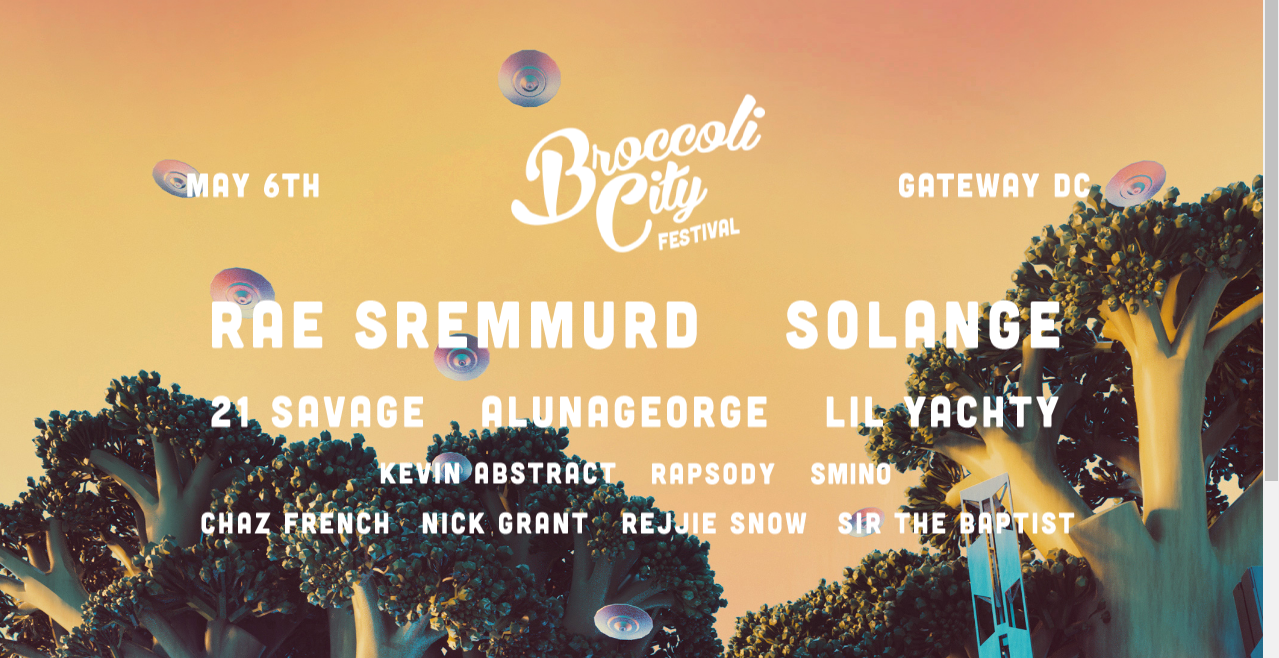 Panorama NYC
Back for its second year, Panorama NYC will return with their blend of hip-hop and alternative acts. Solange is a very busy woman this year, also headlining Panorama on day one alongside Frank Ocean. Other artists performing over the weekend include Tyler The Creator, MGMT, noname, Vince Staples and A Tribe Called Quest. "The Lab" is another feature of Panorama NYC. The dome will be the heart of the festival, combining art and technology and creating an interactive experience to compliment the essence of the actual music festival. The event will occur July 28-30th at Randall's Island Park. Tickets are on sale on the Panorama NYC website.