Tim Chevalier was fired by google when when he responded  to racist and sexist encounters within the company with internal posts and memes.
Ex-Google Engineer, Tim Chevalier, who identifies as disabled and transgender, is suing Google (GOOGL) for retaliation, wrongful termination and failure to prevent discrimination and harassment.
Tim Chevalier worked for Google as a software developer and site-reliability engineer for a little under two years when he was fired in November of 2017 for creating posts that defended women of color and marginalized people.
Tim's lawsuit was filed in San Francisco County Superior Court and he is seeking damages for lost wages, emotional distress, punitive damages, and injunctive relief against alleged harmful acts.
How It All Started
Google has a social media platform for it's employees to network, engage, and share ideas and thoughts with one another. (Bad Idea)
It is kind of like high school all over again, but in the workplace. Tim states that many of his former co-workers (many of whom are predominately white men) were belittling minority, LGBT, and pretty much every other group of under represented peoples.
When Google employees were expressing the incompetence of certain minority and women workers, Tim took it upon himself to combat the hate with memes.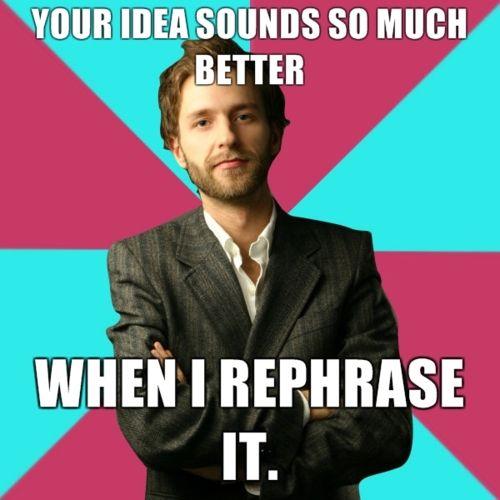 This particular meme depicts what some minorities have faced in the workplace: Having ideas taken seriously only when a "traditional employee" says it.
The lawsuit states, "Chevalier pushed back against the online bullying he and others experienced, using the same internal messaging systems to try to educate his employer and coworkers on how to change Google's working conditions to be inclusive and supportive of underrepresented minorities, such as himself."
Tim's use of memes to respond to discrimination led to his firing. Even though he didn't curse anyone out or physically harm anyone he was punished to a similar extent.  Instead, he used modern tactics to become an activist, but Google wasn't having it. The company stated that Tim's firing was due to the political nature of his posts. They reacted without regard to WHY he did it, and chose to focus on WHO did it. A disabled, transgender man with a little too much to say.
Chevalier said in a statement from The Verge, "It is a cruel irony that Google attempted to justify firing me by claiming that my social networking posts showed bias against my harassers.The anti-discrimination laws are meant to protect marginalized and underrepresented groups — not those who attack them."
And Tim is not alone
Tim Chevalier isn't the only former Google employee suing the company.
There are currently four current and former Google employees who stated they were disciplined for speaking out internally against racism and sexism—speech that has apparently been deemed as discriminatory towards white men. So, if you don't agree with your white counterparts at Google, silica is your only option for continued employment.
Google is also facing a gender-pay lawsuit claiming the company paid women less than their male counterparts.
 TIP for Social Media Activism:
Many people know that when engaging in controversial topics on social media, it is important to put "These views do not affect that of my employer" in your perspective social media bios. This simple statement protects you from a lot of potential trouble and is good practice for those wishing to speak up!
Keep up with MEF and stories like this one on MEFeater.com and Facebook, Twitter, Pinterest and Instagram! @MEFeater