Supermodel and actress Emily Ratajkowski was quick to call out French magazine 'Madame Figaro' for the distinct photoshopping on the September cover she was the star of. The magazine is published weekly with the Saturday edition of newspaper 'Le Figaro.'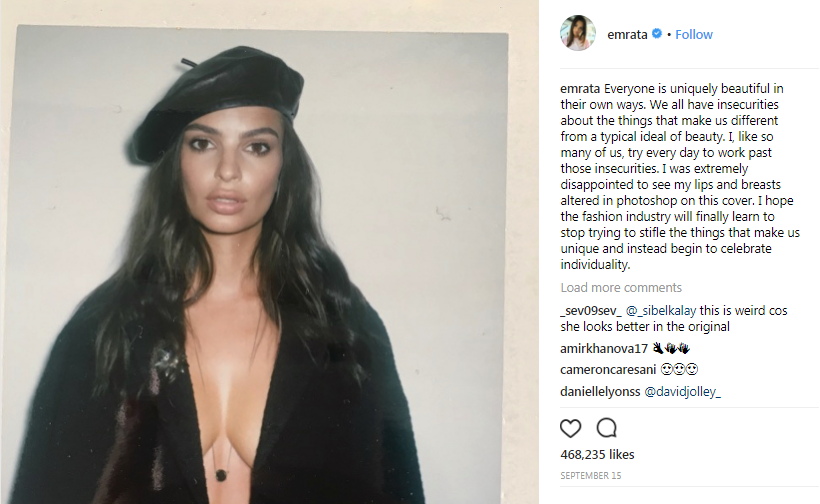 Ms. Ratajkowski is known to be vocal about the hypocrisy within the fashion industry. She regularly points out the censorship of women's bodies and the use of Photoshop. For her cover of Madame Figaro, Emily posted the original photo taken of her alongside the one that was published by the magazine. In the retouched picture, there is an evidential difference with her face and the size of her breasts.
It appeared at an interesting time when separate laws were being introduced by France tackling the problem in question. You can read more about that on MEFeater here.
Under the pictures Emily Ratajkowski posted on Instagram, she added a caption expressing her frustration. "… extremely disappointed to see my lips and breasts altered in photoshop on this cover… hope the fashion industry will finally learn to stop trying to stifle the things that make us unique and instead begin to celebrate individuality."
Laws were since implemented with regard to the widespread retouching of published photographs. However, it is important that influential figures like Emily Ratajkowski continue to speak out against it. The magazine in question, Le Figaro, never responded (to MEFeater's knowledge) to the publicity surrounding the September magazine cover.
Do you have any thoughts on the censoring of women's bodies and Photoshop? Let us know here at MEFeater or in the comments?. You can catch us over on Facebook, Twitter, Pinterest, and Instagram too!