Sometimes the bite is rougher than the bark.
After a long hiatus from music, rapper Shad Moss otherwise known as Bow Wow is making headlines with his newest album release. The rapper took to social media to announce the album, aptly titled "Edicius". Moss continued to tweet, stating the meaning behind the title.
"Decided to name my album EDICIUS its SUICIDE backward," he tweeted. "The meaning means … To bring yourself back from something.The name represents relentlessness, coming back for more even after death. Left the old me and woke up a NEW ME."
Is Bow Wow Suicidal?
The name sparked controversy, as it followed after Moss' release of his 'Emotional' music video, where he addresses the falling out of him and friend Chris Brown according to XXL Magazine. Additionally, Moss had tweeted a series of alarming tweets on April 1st, referring to himself as the 'black spiderman' also according to XXL Magazine.
Additionally, according to Rap-Up, Moss had previously tweeted about suicide back in 2010. "I swear I be wishing I was dead sometimes. Because I feel like that's the only way I'll get peace," the then 23-year-old tweeted. The tweets were later deleted, but you can still read them here.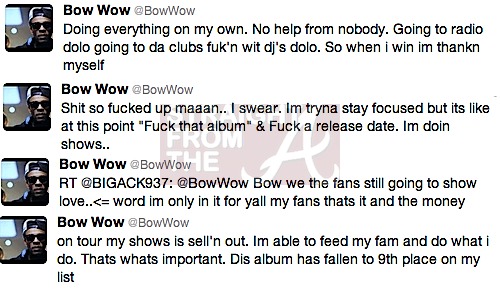 Is It Creative Expression?
Hopefully, the album name is just that: a name, however, there are speculations that the recent emotional tweets and videos are Bow Wow's way of expressing his unhappiness with where he stands in the music industry.
If you or someone you know may be struggling with suicide, please contact the National Suicide Prevention Lifeline at 1-800-273-8255.