It seems as though the odds are FOREVA in Cardi B's favor.
Cardi B has announced that her début album will be here by October.
At the Made In America festival, the Bronx native ended her set announcing that her début studio album will be dropping this October. "Let me remind y'all, I'm dropping my album [in] October, bye," she teased before going off the stage.
OCTOBER. pic.twitter.com/FURxhdvwiE

— Daily Cardi (@DailyCardi) September 3, 2017
From dropping two mixtapes respectively to signing a record deal with Atlantic Records,  to having a #1 Bop on Billboard, and meeting Queen Bey all in one year? Cardi B is truly blessed.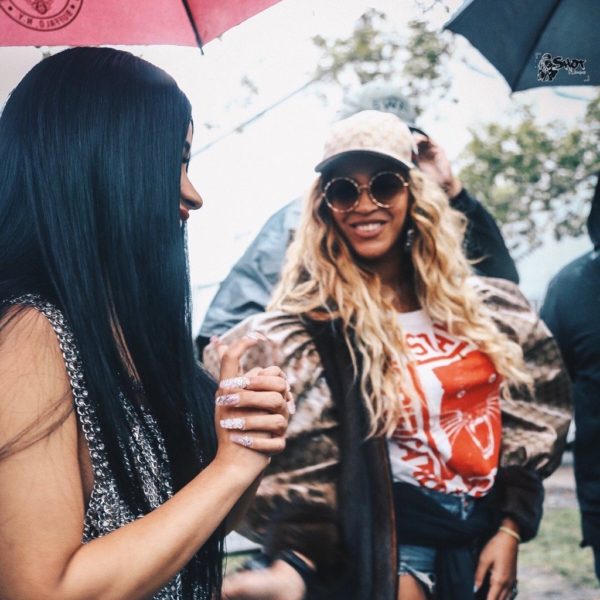 Cardi B's journey to fame and success wasn't an easy one. She danced in the strip-club before she became famous. But like all true stars, Cardi was just waiting for her moment.
Cardi B's hustler mentality and social media platform helped the raptress turn her dreams into a reality. Cardi B's Instagram videos often went viral due to her hilarious attitude, fierce witted puns, and "No holds barred", "Ima keep it G" attitude. Eventually, Cardi B caught the eye of Mona Scott Young and was cast on Love and Hip-Hop New York. Despite being on reality T.V, Cardi B consistently stayed true to herself and her values. The same down to earth girl you saw on Instagram is exactly what you got on T.V. She didn't get sucked into the "reality T.V"  world like so many other aspiring musicians that come across LHH. No, Cardi manifested her destiny and now she's living her best life.

After proving all her doubters wrong and having a #1 Bop on the billboards, I don't see Cardi B letting up anytime soon. Cardi, you inspire us all.
After all, she's just a regular, shmegular, girl from the Bronx.
We are rooting for you! We are all rooting for you!