This is the year of Adidas, and we are HERE for it! Adidas Originals announced that their Season 2 Collection will be a collaboration with Alexander Wang.
Adidas x Alexander Wang dropped exclusively in NYC on July 29th, while the rest of the world has to anxiously wait until August 5th.
They implemented a unique text-to-buy method where the buyer texts a phone number to buy a pair of shoes. Once someone was able to successfully buy a pair, the purchase was hand-delivered by a bike messenger fully clad in Alexander Wang gear.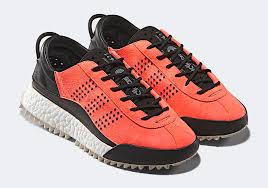 The shoe is called the "Hike Lo".
To get yours, head over to Adidas stores on August 5th. If you want to buy a pair in the comfort of your own home, go on http://www.adidas.com/us/originals, or alexanderwang.com to snag a pair.
What do you guys think of this? Will you be splurging on a pair this summer, or are they not your style? Let us know in the comments!