We all know the saying that fashion repeats itself, but we hope these fashion statements from the 1990's and the 2000's (in my Juvenile voice), will never see the light of day again.
1. Name Belts
If you had a name on your belt, oh you were the bomb! This style seemed to come out of nowhere and instantly became a hit. You were able to purchase a name belt at a mall kiosk within months of them becoming a trend. These belts seemed to become increasingly customizable within months, where you can bedazzle yours or if you had *schmoney * buy an electrical one.
2. Baby Phat Puffer Jacket
These jackets right here were seen on every girl on the schoolyard. I can't recall a time where it was cold, rainy, windy, and sometimes sunny that girls didn't have this on. This is not to downplay Baby Phat because this brand was iconic. Baby Phat was established by Kimora Lee Simmons, launched in 1999. When Lil Kim rocked a fur coat to the floor and a cropped white tank and bikini bottoms on the Baby Phat runway (see here) history was made. Baby Phat officially became a household name after that.
3. Chinese Slippers
Chinese slippers were all the rave in the early 2000's. Like any trend, I saw everyone wearing this stylish slipper at my school and I had to cop. They came in an assortment of colors and were very affordable. The mesh, floral, and sequenced shoe seemed like the best combination for that time. But, let's be clear, that is where it should stay!! These Chinese slippers did make a re-appearance at Balenciaga's Spring/Summer 2016 collection (here) during Paris Fashion Week but Twitter made it very clear that these fashion statements were something of the past.
4. Tall Tees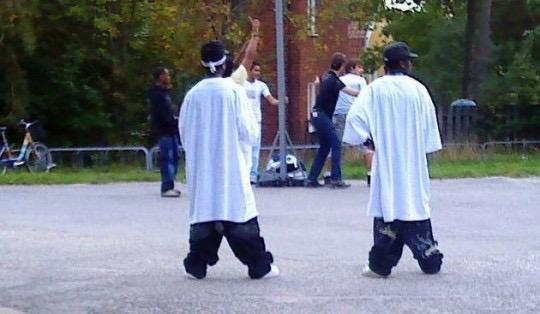 A  tall tee or extra-long tee was the fad, hunty!  I don't quite understand why ? but the infamous white-tee just got longer and longer. It became even more popular when Dem Franchize Boyz released a summer anthem in 2006 entitled "White Tee". The whole song is about different activities someone can do in a white tee. This song made it cool to wear a white tee no matter how long. However, when white tees became associated with gang culture the reign of the white tee (long or short) was over. Although some may claim that in 2016 long tee-shirts started making a comeback, it did not mimic the once baggy, oversized, pure white, extra-long tee of the mid-2000s. But, let's all admit, we are cool with that!!
Although these trends were once some of our favorite items to rock, we're hoping they never make a comeback!!  Catch up with MEFeater on Facebook, Twitter, Pinterest, and Instagram. ?
Subscribe to our mailing list